Accessibility is a common topic on the DesignHammer site. Usually, our content related to accessibility is heavily oriented around website development and how WCAG legislation is evolving over time, however, it is also important to note that most of these accessibility guidelines also overlap with content that is shared on social media.
With all of the updates tech companies are making to their websites and products to account for digital accessibility (see recent Reader's Corner article: The Last of Us part II is the Most Accessible Video Game Ever), many marketers believe that social media platforms are already adjusting their content so, therefore, they shouldn't have to worry about making accessible content themselves. — which is a very incorrect assumption. In her recent Social Media Examiner article (shared above), Corinna Keefe provides an excellent tutorial for marketers who want to stay inclusive to users with disabilities and take the initiative to create content on social media that is accessible for all.
Her article breaks down all the accessibility basics that should be on your radar if you are a content marketer. Her suggestions on how to design accessible content for social media is split out by content type, which includes:
Text
Images
Video
Links
Not only does she break each content type down into easily digestible chunks, but she also includes the importance of and significance of keeping each of these content types accessible in the first place.
And why is it important?
There are more than 60 million United States citizens living with a disability that negatively impacts their ability to use technology. This statistic accounts for those who are hearing and/or vision-impaired, have limited mobility, or possess a cognitive disability. That's a huge number of people (including potential consumers) that marketers may not be reaching if their content hasn't been properly adapted to meet the unique needs of the digitally disabled community. There are a lot of accessibility guidelines and adapting content to meet the recommended WCAG (Web Content Accessibility Guidelines) isn't fun, but it is still important for social media marketers to consider if they want to optimize their reach. Plus, doing so supports inclusivity and helps disabled users who are struggling to effectively navigate the web every day.
In related news, the UK government has released infographics for individuals, designers, and content marketers, on how to design for people with different kinds of disabilities. I have included a few of them here. You can find and download the full PDF by clicking this link.
Designing for Users with Low Vision
Designing for Users with Anxiety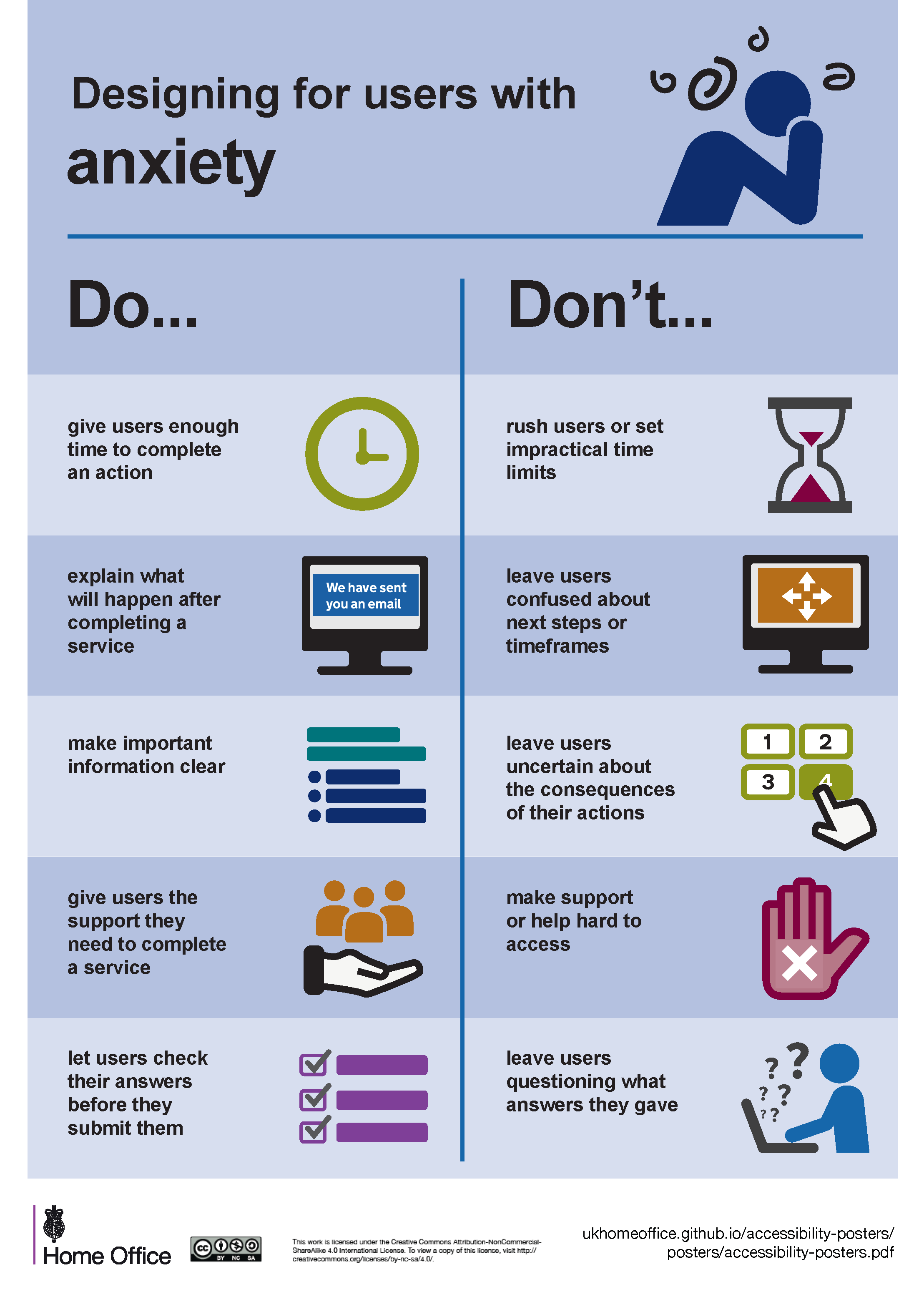 Image Source: UK Government - Home Office Digital
Designing for Users who are Hard of Hearing