FOR IMMEDIATE RELEASE:
Press Contact: Dave Shepley, Development Strategist
dshepley@designhammer.com | (919) 336-5669
(Durham, North Carolina) DesignHammer has been awarded five dotCOMM Awards in the 2021 competition, including two Platinum Awards, one Gold Award, and two Honorable Mentions.
Our custom TransmetriQ website build and the DesignHammer website have each been recognized with a  Platinum Award in the B2B category and in the marketing/digital agency category, respectively. Additionally, our redesign of the Divers Alert Network website has been awarded one Gold Award in the nonprofit category, as well as two Honorable Mentions, one in the association category and one in the sports/recreation category.
Longtime client Railinc commissioned their third project with DesignHammer for a custom website to effectively reflect the rebranded identity for their commercial product line (TransmetriQ), a website that dotCOMM has now recognized with a Platinum Award. DesignHammer's latest Gold dotCOMM Award was the result of close collaboration with Divers Alert Network in 2020 to consolidate a number of web properties into a user-friendly WordPress website with a custom theme. In addition to these two clients, DesignHammer took home a Platinum dotCOMM for the 2021 redesign of our own company website.
"We are pleased with the recognition of the new Divers Alert Network website — and we're thrilled with the improved user experience for our customers and members" — Bill Ziefle, DAN President & CEO
Administered and judged by the Association of Marketing and Communication Professionals (AMCP), dotCOMM Awards is an international competition honoring excellence in web creativity and digital communication. The AMCP is one of the largest and oldest, third-party evaluators of creative work in the world. Other noteworthy dotCOMM award-winning projects from 2021 were commissioned by Duke Energy, NATO, Cornell University, and WP Engine. See the rest of the 2021 dotCOMM award winners.
These five awards bring DesignHammer's total dotCOMM Awards total to fifteen, since 2017. Previous DesignHammer projects to have taken home awards include work for the Council for Entrepreneurial Development (CED), Highland Composites, Interiors in Flight, The William Blake Archive, the North Carolina Center for Nonprofits, Railinc, Duke Health, and the Full Frame Documentary Film Festival.
"I'm very proud to hear of our agency's recent achievement and happy to see the AMCP judges have recognized the value of the results we deliver our clients. Earning two Platinum Awards, one Gold, and two Honorable Mentions from dotCOMM, is a testament to the skill, vision, and collaborative effort our team." — David Minton, DesignHammer Managing Partner.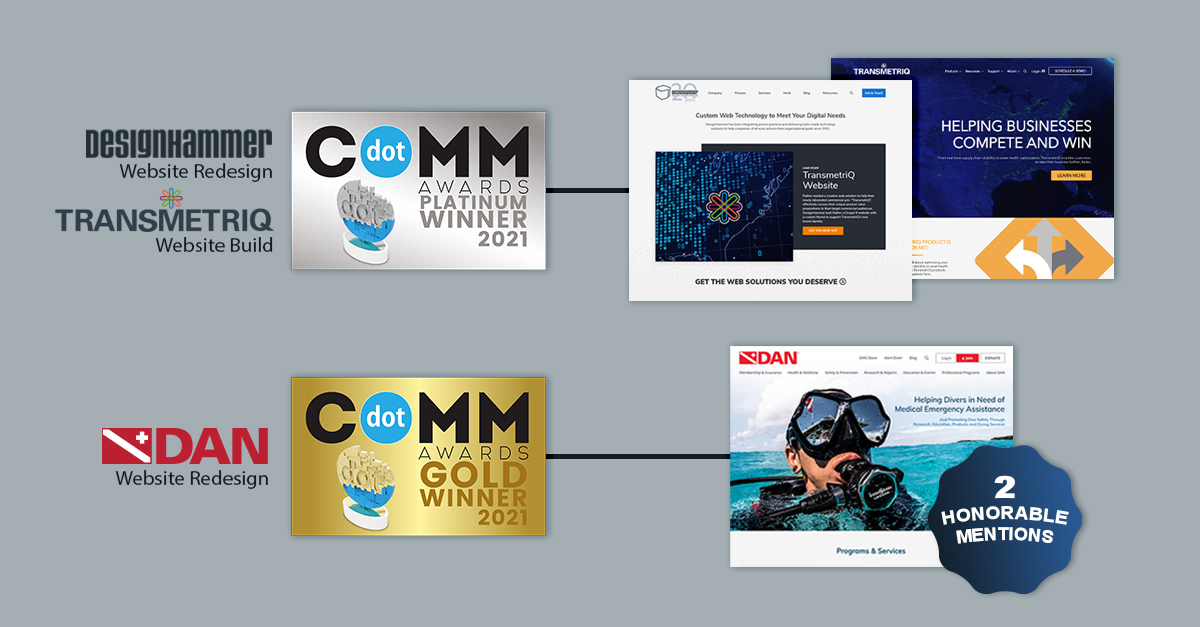 About DesignHammer
As a full-service web strategy, design, and development agency, DesignHammer has been integrating proven practices and delivering tailor-made technology solutions to help companies and organizations achieve their business goals since 2001. Headquartered in Durham, North Carolina, DesignHammer has been internationally recognized for their award-winning websites and web design & development industry expertise. Using a collaborative development process, DesignHammer's close-knit team of experienced web strategists, developers, and designers leverage existing software platforms, custom software frameworks, and third-party software integrations to provide client organizations with the best ROI.