Thanks to the hard work of our team this past year and stellar reviews from our clients, DesignHammer has once again been recognized with an esteemed Clutch Leaders Award. Clutch recently listed DesignHammer as the 2nd best digital agency in all of North Carolina for 2021.
Clutch.co is the leading ratings and reviews platform for IT, marketing, and business service providers. Each month, over half a million buyers and sellers of services use the Clutch platform which contains over 200,000 agency listings. To select their annual Leaders Award winners, Clutch uses a complex methodology that consists of meticulously evaluating a company's service focus, case studies, brand reputation, and verified reviews, among many other factors, to determine a company's industry expertise and ability to deliver.
Securing a second place position against hundreds of North Carolina competitors demonstrates that Clutch's algorithm has recognized industry excellence throughout every qualifying aspect of our agency and considers DesignHammer to be one of the development industry's finest. 
In addition to their annual Leaders Award, Clutch regularly updates their proprietary "Leaders Matrix," which provides a visual representation of top performing companies in a particular industry and location. As of this release, DesignHammer is ranked 2nd on Clutch's Top Drupal Developers Matrixin Raleigh/Durham, and 3rd in Clutch's Top Web Developers Matrix for all of North Carolina.
In reference to the 2021 B2B Leaders list, Clutch Customer Operations Representative Austin Ellis stated: 
"These providers excelled in their respective fields and have shown that they can provide high-quality services to their clients. Companies looking for a partner in web design, branding, SEO, mobile app development, and other B2B services should check out the firms on this list." 
This is DesignHammer's third Leaders Award following our previous recognition from Clutch as a Top Performing B2B Company in North Carolina as well as a Top Global Service Provider in 2020. Winning a Clutch Leader's Award is a testament to our clients' success working with DesignHammer and a reflection of the time spent sharing their satisfaction level with Clutch representatives.
"DesignHammer is honored to be recognized as a top digital agency by Clutch in their recently published Top-Performing B2B Companies in North Carolina. We'd like to thank both current and former clients who left us glowing reviews, as well as Clutch for recognizing our agency's commitment towards delivering quality work and providing our clients with a positive, collaborative project experience." 
— David Minton, Managing Partner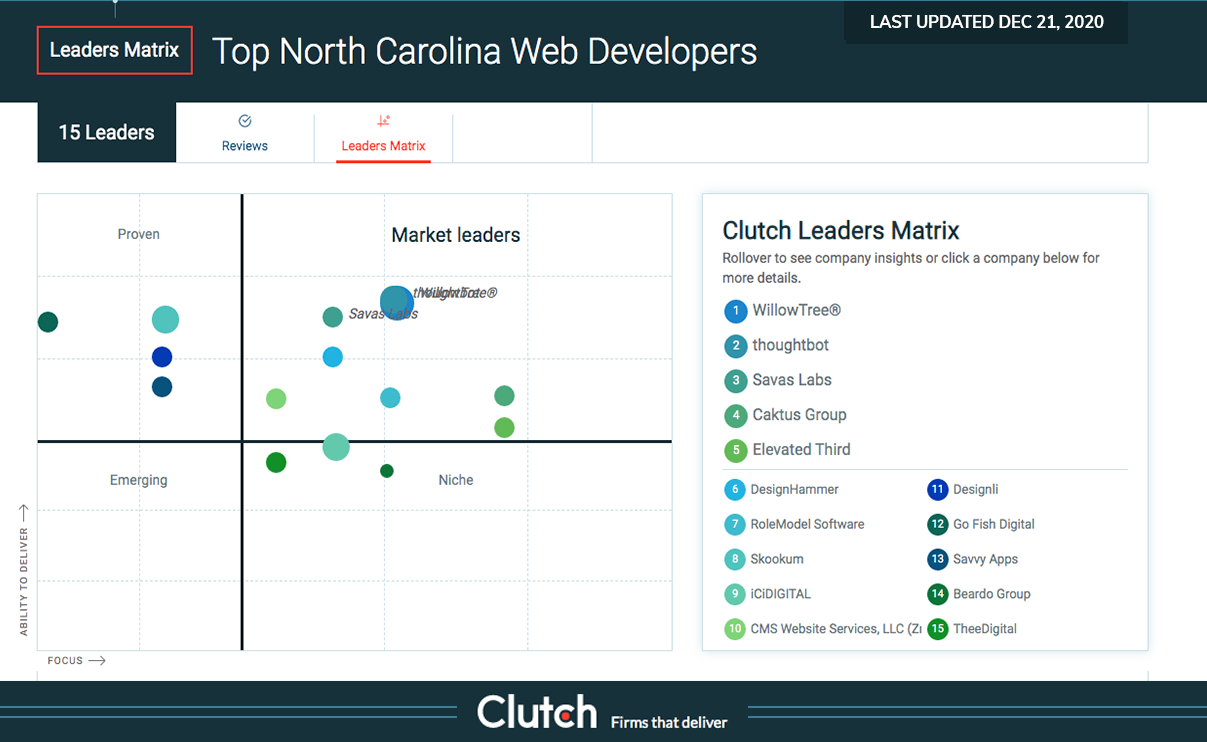 About DesignHammer
As a full-service web strategy, design, and development agency, DesignHammer has been integrating proven practices and delivering tailor-made technology solutions to help companies and organizations achieve their business goals since 2001. Headquartered in Durham, North Carolina, DesignHammer has been internationally recognized for their award-winning websites and web design & development industry expertise. Using a collaborative development process, DesignHammer's close-knit team of experienced web strategists, developers, and designers leverage existing software platforms, custom software frameworks, and third-party software integrations to provide client organizations with the best ROI.