Last week DesignHammer became a distributed company.
Due to recent COVID-19 (coronavirus) "social distancing" ordinances, we are now seeing companies scramble to change their policies and operations to accommodate more employees working from home (WFH). As a small web development agency, transitioning to a WFH environment wasn't a huge feat for us to accomplish, as we've long been set up for this kind of situation–in terms of operations, at least. That being said, it appears that other organizations are struggling to cope with the chaos that these inconvenient isolation precautions have created for them.
At DesignHammer utilizing internet technologies is our day-to-day focus. As web experts, we feel it's our duty to hold conversations with those who may be struggling to cope with this new normal. One advantage of the existing interconnectedness of our modern world is the ability to collaborate extensively online, so many organizations are actually more equipped for this adjustment than they realize.
As a manager or business owner you may be rightfully wondering how to keep your head above water during these turbulent times. This may include how you are going to encourage safe habits within your organization, how to adapt to a work-from-home environment, and how to reprioritize certain internal initiatives given the novel circumstances. Before we get into the latter though, let's first make sure you are using all of the tools at your disposal to keep operations running smoothly from the comfort of your laptop.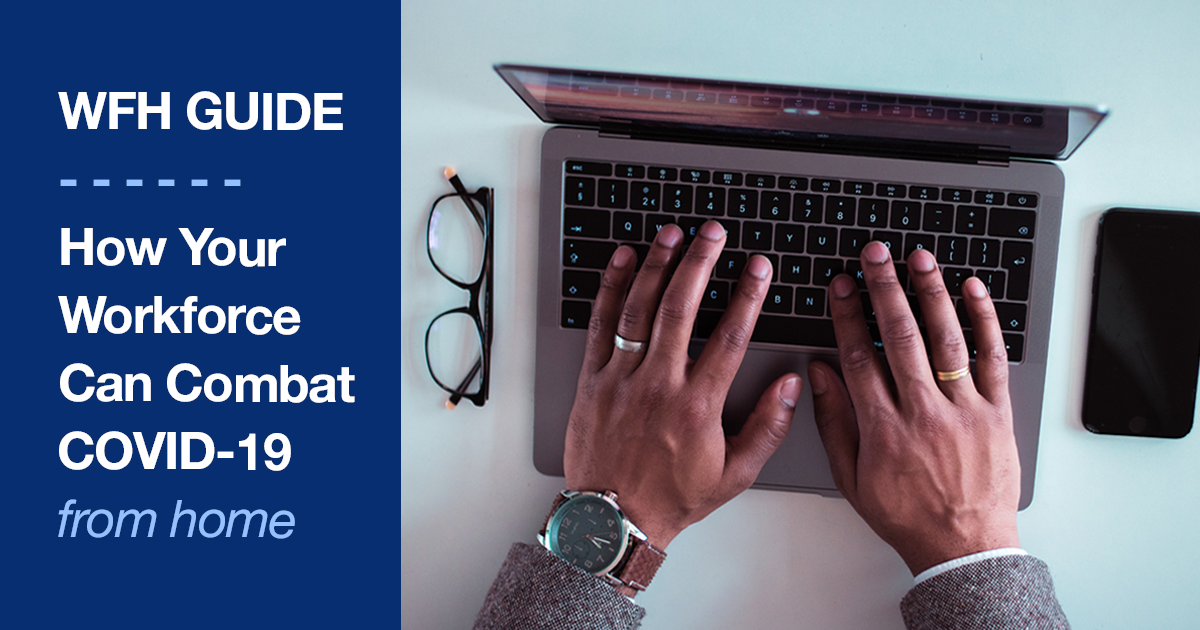 Staying Connected is Key
Ensure Staff Connectivity
Before communicating new company-wide work-from-home measures, it is imperative that you ensure that all relevant parties have the equipment necessary to do their job from home. This may include lifting existing policies to allow employees to take their company laptop, or desktop computer home to maintain business as usual; after all, this is a crisis. You may also want to allow staff to borrow wireless headphone mics, and keyboards, mice, even monitors; whatever equipment they use in their position from within the office should be fair game.
If your employees handle sensitive information, make sure that VPN connection has been properly configured and educate staff members on how to connect to your private network from home. You will also want to ensure that all employees have internet access and the bandwidth necessary to perform their duties at home, maybe even going as far as subsidizing their internet service in extreme circumstances.
Video Conferencing Services: GoToMeeting, Zoom
The latest video conferencing statistics show that not only do 78% of corporations currently rely on video conferencing for meetings, but the vast majority feel that video conferencing helps with positive communication and collaboration. They also report that seeing the faces of others helps with relationship-building inside and outside of the company. At DesignHammer we utilize Zoom and GoToMeeting for our video conferencing activities. Both platforms (under certain plans) also offer webinar services, the ability to record calls, and automatic audio transcriptions of meetings.
Communication Methods: Slack, Business Phone Services
Slack is our preferred method of internal communication mostly due to the vast number of app integrations provided by the service. Slack also offers voice and video calling with the ability to screen share with anyone in your workspace. For Microsoft Office 365 users, educating employees on the advantages of employing Microsoft Teams will be important to maintain daily communications; although it does appear that just a few days into the pandemic the new WFH overload strained Microsoft's servers... so proceed with caution on that one.
If your business requires phone-based customer service, you should take advantage of a unified communications service, such as those offered by companies like Intermedia or Nextiva Office if you are not doing so already.
Promoting Employee Engagement
Collaborative Technologies: Google Drive, Microsoft Office 365
Collaboration will be key in the coming times more than ever. To collaborate on documents, spreadsheets, and presentations, having a company-wide G Suite (Google Enterprise) or Office 365 set up will be essential to maintaining team collaboration in these trying times.
Keeping Morale Up: Bonusly & Officevibe
One way that DesignHammer ensures our employees stay engaged is by promoting the use of Bonusly, an application that provides a points-based system through which employees can reward each other for good work (it also integrates with Slack). These points, dubbed "cookies", refresh every month and can then be cashed out in the form of gift cards, charitable donations, or via Paypal–an extra incentive for employees concerned about their future finances. Officevibe is another tool that our management team uses to gather feedback from employees in the form of simple survey questions; tracking current employee morale and giving them a platform to show gratitude and/or to voice their concerns. Both services are great tools for boosting employee engagement, particularly in WFH situations.
Tools For Business Managers
As previously mentioned, CEOs and COOs are stuck between a rock and a hard place at the moment but will soon be reevaluating their operational strategies if they are not in the process of doing so already. As corporations brace for economic impact, a lot of employees around the world are going to be left in the dust.
A recent NPR poll reports that 1 in 5 households has already lost work due to the pandemic, and business analysts are claiming that nearly 80 million jobs in the US workforce are at high or moderate risk today. That's more than half of the 153 million jobs in the economy overall. If you are a business owner whose industry will be impacted by the virus, you've probably already begun thinking through the difficult decision to lay people off. One way to keep this process smooth when and if it happens is to make sure your human resources team has access to present-day HR software, and video conferencing tools to make this process as efficient as possible. Our company uses BambooHR to manage documentation, management communications, onboarding activities, and other HR necessities. The pricing and services offered by BambooHR, however, are geared towards small businesses like us, so if your operations involve more than 100 people it may be worth digging around other HR tools to see which ones best fit your operational needs. The right software will streamline a lot of the operations for you so you can continue business as usual from behind a computer screen.
Project management is going to become hectic with all the sudden changes. If you are not already employing a project management software like Teamwork to keep up with ongoing activities, there has never been a better time to implement one. You do not want to risk losing track of existing work ahead of this period of uncertainty, as customers and client success during turbulent times will influence customer perception when the dust settles in the future.
Keep Your Head High
If you are reading this, hopefully you and your organization are taking extra steps towards staying safe; including but not limited to optimizing your work from home strategy. It is important not to get flustered, the country is encouraging strict isolation measures but it isn't an outright war. It's worth taking the time now to refocus your internal initiatives and position your company to come out on top once we resume some semblance of life as usual.