The UX Y'all Conferences hosted from Sept 23rd – 24th by The Triangle User Experience Professionals Association (TriUXPA) attracted user experience lovers and designers worldwide for two fun-filled days of virtual learning and networking opportunities. 
Sessions were led by a diverse set of creative leads and industry experts, many of whom represented prominent technology companies such as IBM, DocuSign, Adobe, and Triangle-based SAS and Red Hat — to name a few. 
The conference's 25 sessions covered a variety of topics and involved presentations related to UX research, digital product design, design operations, emotional wellness, and even team building. But, if there was one session topic that stood out above the rest, that topic was certainly Inclusivity. 
Conference attendees had the opportunity to view a different inclusivity-themed session every other hour, including but not limited to: Being a Woman of Color in Technology, Our Equitable Future Depends on Forming Inclusive UX Teams NOW!, An Inclusive Web: Using Preference Media Queries to Make Your Sites for Everyone, Designing with an Equity and Justice Lens, and Moving from Awareness to Action: Designing Inclusive and Accessible Experiences.
These particular sessions were among the finest reflections of the overall theme for the 2021 conference, which was Unity. UX Y'all organizers made it very clear that their aim for this event was to connect our different experiences, spaces, and strengths, and explore how UX can inspire togetherness through our products and practices. As a conference attendee I think I can speak for everyone when I say that they certainly accomplished their goal. 
DesignHammer was heavily involved in the 2021 Conference. As a sponsor, we had the opportunity to present the DesignHammer brand and network with attendees inside our virtual "expo booth". In addition to this, one of the company highlights of this year's conference was a 45-minute panel moderated by DesignHammer's own Dave Shepley.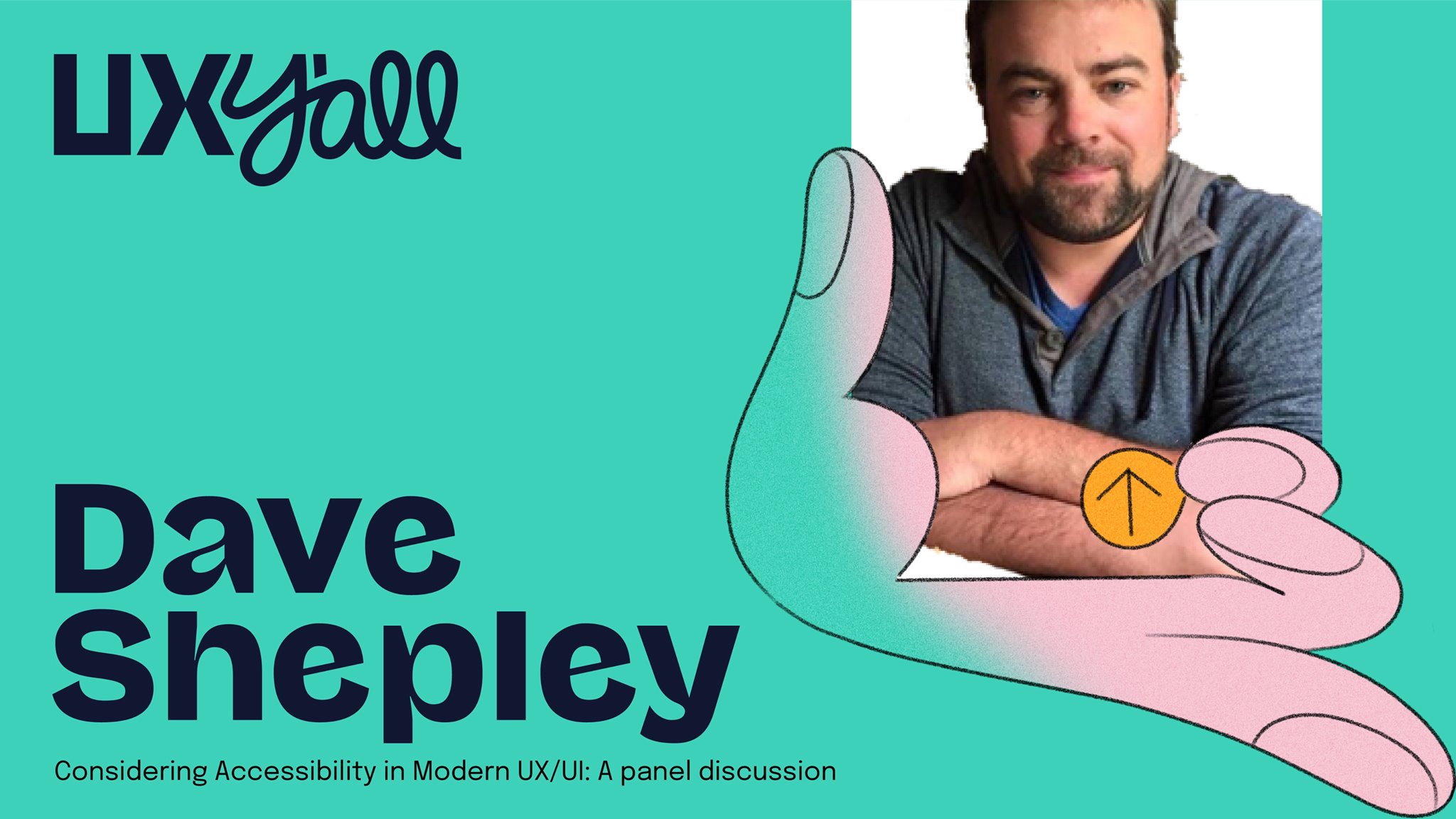 The panel "Considering Accessibility in Modern UX/UI", included DesignHammer's Managing Partner David Minton and digital accessibility advocate Jon Samuel, who is the Co-Founder of Ablr, an accessibility and inclusion company that delivers innovative solutions and services that empower the lives of people living with disabilities. The panel also included input from Ablr's Accessibility Operations Manager Kim Casey, and Bona Son, a legally blind technology professional who executes website accessibility testing as a contractor for Ablr. 
The free-flowing conversation between accessibility experts revolved around accessible web design, how screen readers actually operate, and common user interface design errors that make using the web very difficult for people who are visually and/or hearing impaired. Panel attendees were also heavily educated on the importance of addressing accessibility in light of usability.
Over the course of the 45-minute panel, the most memorable part actually happened at the very beginning. For the first 15 minutes, John Samuel, who is visually impaired, could not find the proper controls on the conference's virtual platform and was therefore unable to join in on the live panel discussion. As the moderator, Dave Shepley attempted to help John join the call mid-panel to no avail. Ultimately it was a UX Y'all volunteer who was able to jump in and assist John through the steps he needed to take to access the call successfully.
While this kind of occurrence feels like a minor fluke on our end, it is actually a reflection of something bigger. John's difficulty joining the video call is a perfect representation of the plight faced on a daily basis by people with hearing, visual, and learning disabilities whenever they attempt to use the internet.
Overall, the discussion taught me that although the rapidly-evolving technological landscape of the 21st century is exceptional and even amazing at times, there are still some prevailing flaws in digital product design and a huge awareness gap that exists when it comes to public knowledge of the issues faced by people with disabilities. The DesignHammer / Ablr panel discussion was effective in bringing these issues to light and managed to successfully highlight various ways, some obvious and some not, that UX/UI designers can be more inclusive towards the visual and hearing impaired in their design.