As one of of DesignHammer's organic Search Engine Optimization (SEO) services, we monitor our client's position on Search Engine Results Pages (SERPs), along with those of their major competitors. Recently, a competitor to one of our clients rocketed to the top of the search rankings for several of their targeted search terms. There are a number of reasons this could happen, so I set out to determine what would account for this dramatic change.
At the most basic level, organic SEO can be divided into "on page" and "off page" techniques. On Page techniques include HTML structure, and written content on a page being optimized, while Off Page techniques primarily focus on the quality and quantity of incoming links.
Since there are a number of tools that automate analysis of incoming links, that was my first path of inquiery. I quickly noted links from over ten TypePad blogs to the competitor's website for several of their targeted search terms.
When I reviewed the TypePad blogs, I found they were obviously being used solely to create backlinks for SEO. While this was not surprising, what did surprise me was several of the blogs I reviewed had exceptionally good PageRank for a spam blog (PageRank of 4 or 5 out of a possible 10). This was unexpected since a number of recent updates to the Google algorithm were supposed to punish low quality websites such as this one.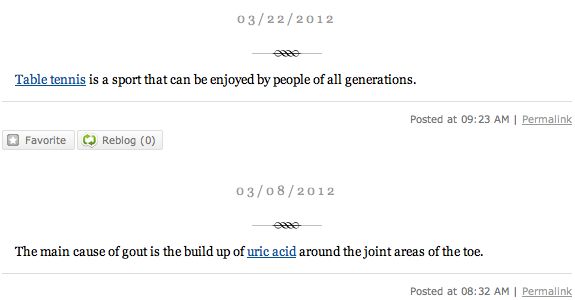 A Spam Blog with a Page Rank of 5 on this page.
Most of the links on the blog are to product pages on e-commerce sites, a common tactic for less reputable SEO firms to improve the search performance of their client's pages. While tactics such as this can be effective in the short term, they violate Google's Webmaster Guidelines and can result in penalties for a site if it is caught benefitting from such link schemes. The most recent Google algorithm update has reportedly damaged webspam tactics such as this. If that is true, why is this link scheme still so effective?
I did some further investigation and found that one of the sites, librarianinblack.typepad.com* was linked to from National Public Radio as one of the "library blogs we love." With a PageRank of 5, a link from this NPR subpage is a high quality link (the NPR home page, with a PageRank of 8, would help even more). As I have come to expect something beyond links to spam from NPR, I decided to dig a bit deeper.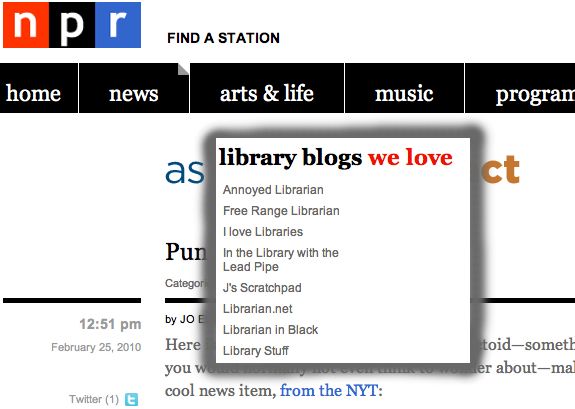 NPR: Library Blogs We Love.
After consulting the Wayback Machine (an incomplete archive of Web pages going back as far as 1996), I discovered that from 2004 through 2009 the Librarian In Black was a regularly updated, apparently well read and respected blog sharing resources and discussions for the "tech-librarians-by-default." In 2009, Librarian In Black moved off of TypePad to it's new home, librarianinblack.net.

The New Librarian In Black Blog.
However starting in 2011, librarianinblack.typepad.com* started a new life as a splog (splog = spam + blog). Splogs are not a new phenomenon, and this was a valuable one. When the actual Librarian In Black blog moved to its own domain, not every linking site updated their links. This left a URL with significant link juice to be used for spamdexing.

Site Activity: 2004-2011.
As a testament to the residual PageRank, librarianinblack.typepad.com* is still the second result in Google for a search for "librarian in black."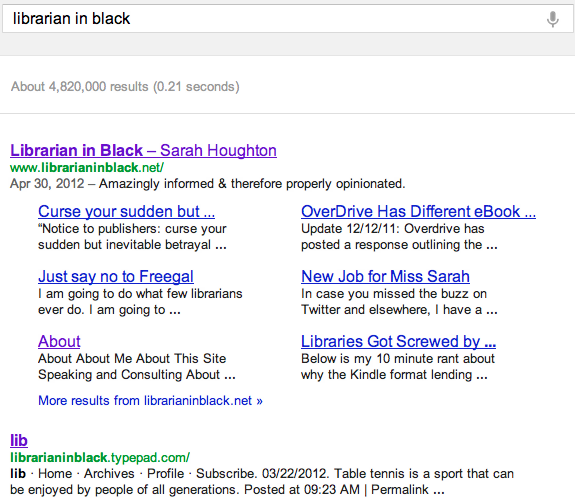 Search Results: Librarian in Black.
While we may never know exactly how this particular web spammer stumbled upon librarianinblack.typepad.com*, Social Engineers and Black Hat SEO practitioners are always on the lookout for new ways to claim blogs with existing page rank.
At DesignHammer, we do not practice or endorse SEO practices that violate Google's SEO Guidelines. We feel that the potential temporary benefit of these prohibited practices is outweighed by the potential for lost business and damaged reputation if caught. In short, black hat SEO practices are bad for business.
* Throughout this blog, I have refrained from linking to the spam blog. I don't see any reason to legitimize it with any of DesignHammer's link authority.
Comments
And sadly, a year later I check the site and it's still a PR5 with the same spammy links. Very interesting. Buying up expired domains with existing PR isn't a new tactic by any stretch, but, like you I'm morbidly curious as to how they managed to procure control of that old blog. Maybe by following broken links from existing web pages and found that the subdomain was available?
Just goes to show there's no limit to the lengths that spammers will go to try and beat the "system".
And, many of the sites being backlinked with money keywords on this typepad blog are ranking...well. So much for Google Penguin.
Add new comment