We want to bring your attention to changes announced on Tuesday that will have a great impact upon individuals and organizations using the popular social network website Facebook for business. As of Saturday, June 13th, at 12:01AM, users, and administrators of pages, will be able to choose their own user names to direct people to the webpage through a self-chosen, recognizable URL. Up until this point, the URL for individuals and pages has been an assigned series of numbers. The screenshot below illustrates the difference between the old and new format:

Prior to this update, we would just like to take a moment to alert you to potential pitfalls regarding the usernames. As there are more than 200 million active users and an increasing number of companies using Facebook, acquiring the most desirable company Facebook URL could become problematic if one is not chosen soon after the selection period becomes active at 12:01pm on Saturday. If someone else claims what would be the intuitive username for your website, it could lead to some confusion and difficulty in the accessibility to the company's facebook page.
Another important point to pay attention to with this change is the eligibility requirements with regard to pages. In order to be eligible for choosing a username, the page must have been registered prior to May 31, 2009 and have at least 1,000 fans. This restriction will be removed on June 28, 2009 and those pages will be able to register at that time, however the most preferred username might not be available at that time.
Facebook has imposed limitations on names available, and have indicated
Please note, user names are not transferable, and cannot be changed once connected to an account or page, so consider your selection carefully.
One safeguard Facebook has provided for this change is a trademark protection option for those worried individuals may acquire their trademarked name. If this is an option that you would like to pursue, the form can be found in Facebook's help center under Usernames: Intellectual Property Rights Holders where you will be directed to this form: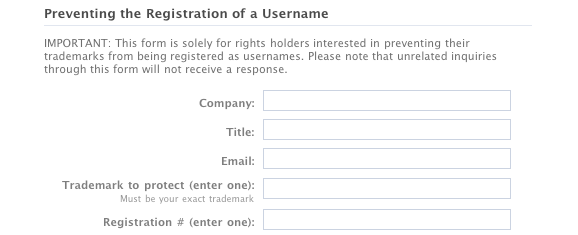 It is highly recommended at this time that you begin to prepare for the update by choosing potential user names (if immediately eligible) or completing the trademark protection form in order to prevent trademark infringement. As the announcement was made on Tuesday there has been little time to prepare for the shift, however if you begin to consider your options now you can be ready for registration when it opens on Saturday.
If you are not yet on Facebook, and are considering it as part of your organizations' social network strategy, create an account today, and be ready to register your desired user name June 28, 2009. If you have an account, and don't consider it important, we suggest you register your desired user name anyway, as you may change your strategy in the future. If someone else registers a name associated with your organization, there may be confusion, and the potential for lost opportunities.
For more information check the Facebook Pages / Public Profiles's Notes as well as the Usernames FAQ.
Comments
I stayed up until midnight and was able to grab mine in the first minute. I hope our blog readers where at their keyboards at midnight, and were able to register their desired profile and page names.
According to mashable.com, 200,000 usernames were registered in fifteen minutes, one million by the end of the first hour, and over three million by 2:00PM EST on Saturday, only fourteen hours later!
Add new comment