Our team is excited to announce that DesignHammer has been recognized by international B2B agency review platform Clutch as the fifth top-performing B2B agency in all of North Carolina!
Based out of Washington D.C., Clutch is the leading ratings and reviews platform for IT, marketing, and business service providers. Each month, over half a million buyers and sellers of services use the Clutch platform, containing over 200,000 agency listings. Clutch guarantees to connect those seeking new business partnerships with "firms that deliver" by conducting independently-verified reviews from each firm's existing or former clients.
Clutch graded DesignHammer's outstanding "ability to deliver" and "service focus," the two determinant factors considered by the organization, against nearly 100 North Carolina competitors to rank the agency as the fifth top-performing B2B focussed digital agency in North Carolina. In reference to this year's North Carolina B2B list, Clutch Revenue Operations Analyst Radha Ray stated:
"These companies represent the best of the best in their respective fields. We are confident in their ability to meet and exceed expectations."
In addition to their annual, regional rankings lists, Clutch regularly updates their proprietary "Leaders Matrix", which provides a visual representation of top-performing companies in a particular industry or location. As of this release, DesignHammer currently holds a position of 3rd place in the Top Drupal Developers Matrix for the Raleigh/Durham area, and 6th place in Clutch's Top Web Developers Matrix for all of North Carolina.
"DesignHammer is honored to be recognized as a top digital agency by Clutch in their recently published Top-Performing B2B Companies of North and South Carolina. We'd like to thank both current and former clients who left us glowing reviews, as well as Clutch for recognizing our agency's commitment towards delivering quality work and providing our clients with a positive, collaborative project experience."
— David Minton, DesignHammer Managing Partner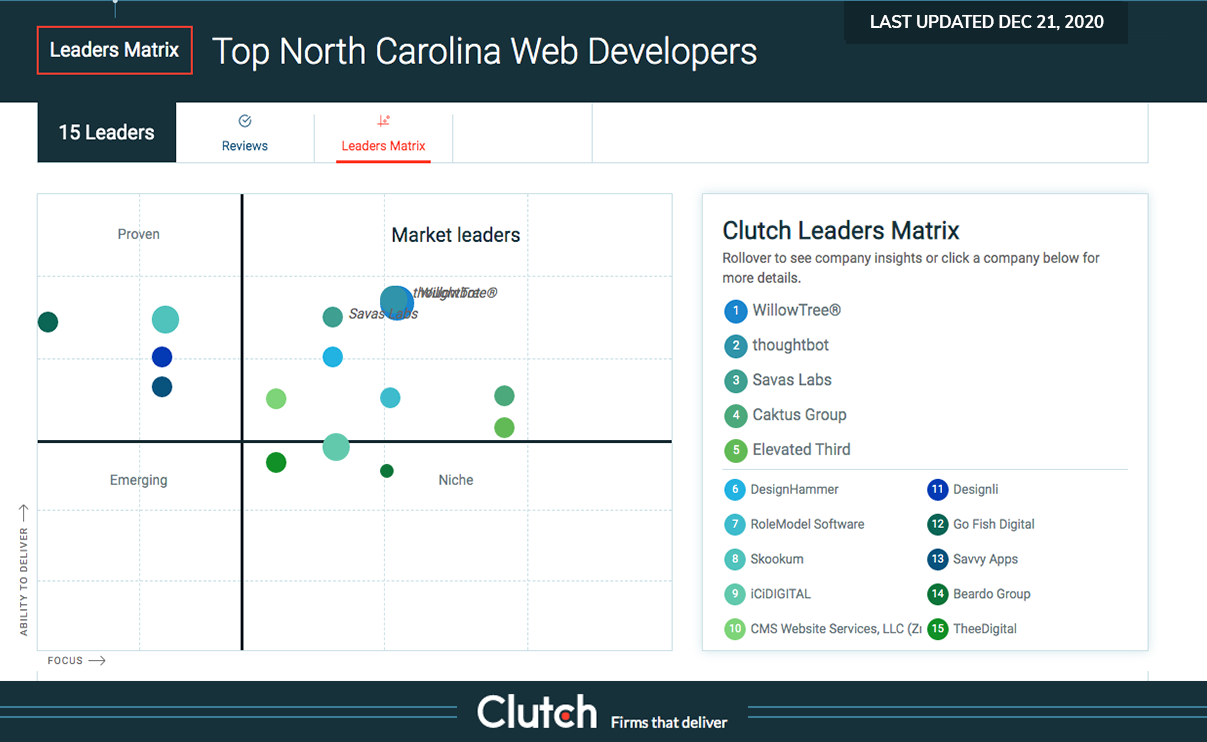 Source Clutch.co
About DesignHammer
As a full-service web strategy, design, and development agency, DesignHammer has been integrating proven practices and delivering tailor-made technology solutions to help companies of all sizes achieve their organizational goals since 2001.
DesignHammer, based out of Durham NC, has been internationally recognized over the years for our award-winning websites and web design & development industry expertise. Using our integral, collaborative development process, DesignHammer's close-knit team of experienced web strategists, developers, and designers are passionate about bringing every clients' digital vision to life.
From Drupal to WordPress to Vue.js & Python, DesignHammer leverages existing software platforms, custom software frameworks, and third-party software integrations to deliver beautiful websites that empower clients and provide them with the best ROI possible.