This is the third article in an ongoing series detailing how some of our clients are pivoting operations and/or contributing to their communities in response to the COVID-19 pandemic. Most companies have had their day to day operations impacted by this pandemic, yet many are still chipping in to help flatten the curve in their own manner. We thought it appropriate to showcase some of that work.
Featured Client
Full Frame Documentary Film Festival

Considered to be one of the most esteemed documentary film festivals in the United States, The Full Frame Documentary Film Festival is a program of the Center for Documentary Studies at Duke University that began in 1998. Full Frame normally welcomes filmmakers and film lovers from around the world to historic downtown Durham for a four-day, morning to midnight array of over 100 films as well as discussions, panels, and southern hospitality. Their mission is to enhance public understanding and appreciation of non-fiction film as a significant art form while making the films accessible to a wider audience. The Festival has strengthened Durham's arts community and the tens of thousands of festival-goers that attend each year have a positive impact on the Full Frame's local venue partners, such as the Carolina Theatre – another DesignHammer client. DesignHammer has been an advocate and web development partner of the Full Frame Documentary Film Festival since 2015.
Full Frame's 23rd Annual Documentary Film Festival was set to take place April 2–5, 2020 and preparations had been well underway for over a year. Before the American public caught sight of the coronavirus threat, Full Frame's juries were already in the process of reviewing the 67 films accepted from more than 2,000 submissions worldwide. Nothing seemed out of the ordinary as Full Frame's jury meticulously studied each film to determine this year's winners, to be revealed at the annual Awards BBQ on the last day of the Festival.
When the threat of coronavirus finally hit U.S. residents both physically and psychologically, and a State of Emergency was officially declared just three short weeks away from the festival, Full Frame's future was upside down. Duke University wisely canceled all sponsored events, a reasonable precaution that unfortunately ended Full Frame's upcoming festival.
As a non-profit program of Duke University's Center for Documentary Studies, canceling the event was extremely damaging from a financial perspective. The festival is a nonprofit 501(c)(3) and receives support from corporate sponsors, private foundations, and individual donors whose generosity provides the foundation that makes the event possible.
After officially informing the public of the festival's cancellation on March 11th, Full Frame had many important decisions to make very quickly. This included communicating with sponsors, reimbursing festival passes and ticket buyers, and coordinating with filmmaking teams to determine next steps.
As a co-creator and implementer of the Full Frame website, DesignHammer partnered to help adapt the site to accommodate this unprecedented unexpected occurrence. It also helped us think through how we can help clients address the unknowns moving forward.
Despite the festival cancellation, the Full Frame committee was not deterred from moving forward with announcing the festival winners in each category and awarding the filmmakers with their prize money. The pandemic complicated operations so the winners were not publicly announced for several weeks after the intended Awards BBQ, but we were happy to see the filmmakers rewarded for their hard work, even if we didn't have the chance to see the winning films personally.
After financial reimbursements were in process, one of the first questions the Full Frame team was faced with was "how can we stay connected to our fans virtually?". As the Full Frame team members disbanded to a work-from-home environment, they got used to staying virtually connected through phone and Zoom calls.
As the Full Frame team looked into ways to stream the festival virtually, they decided they would continue their "Speakeasy Conversations" online. Traditionally, Speakeasy Conversations (sponsored by A&E IndieFilms) are live panel discussions held over the course of the festival for free and open to the public. The sessions were designed for small audiences to listen in a casual setting as industry leaders shared their takes on topics at the heart of the documentary community.
To move the panel discussions to a virtual setting, Full Frame took advantage of Zoom's webinar and Q&A features, to hold their first online event on June 11th. The aptly-chosen theme for their first live-streamed Speakeasy was "Online Festival Strategy for Documentary Filmmakers". The panel was led by Full Frame's Director Deirdre Haj, who moderated the discussion as panelists discussed questions and concerns related to the changing festival landscape. Zoom's Q&A chat box made it so the few hundred viewers who tuned in could ask questions throughout the event. The discussion has been viewed several hundred times after a recording of the event was shared on Full Frame's social media channels last week. You can see the video for Full Frame's first virtual Speakeasy Conversation on their Vimeo account. The next speakeasy is scheduled to take place sometime in August (official date TBD).

Despite having refunded those who had purchased festival passes, Full Frame still wanted to give back to the community in some way and make sure the filmmakers had a platform to showcase their hard work. They decided to press ahead and look into ways they could stream a collection of film features for a select few fans and sponsors who had committed to attending early on. Full Frame partnered with an end-to-end online video streaming company Shift72 based out of New Zealand to make a 5-day virtual event possible for the lucky invitees.
Once Full Frame got the official green light from Shift72 to go ahead with the virtual festival, they only had one week to pull everything together. Emily Foster and Full Frame's Communications Manager Chris Everett were responsible for preparing the virtual festival's back-end, where they were tasked with deciding how the films would be presented and copying over film descriptions. Programming Manager Kate Rogers collaborated with the filmmakers to determine their distribution plan and assist with uploading films to the streaming site.
Like most industries, filmmakers were navigating a new festival landscape due to the pandemic, which now included virtual festivals. Some filmmakers bowed out of the opportunity to stream their films on Full Frame's virtual festival platform for a variety of reasons, mainly due to contractual obligations with other film distributors, or to avoid the piracy risk that is always a concern when streaming content to viewers on personal laptops. In the end, Full Frame was able to secure 32 of the 67 films that would have played during the live festival. Around 800 people were invited to the virtual event, the guest list included Full Frame''s advisory board, Duke constituents, filmmaking teams, and of course, original festival pass holders. The view rate averaged at around 1,000 film streams per day for five days straight! For film lovers and would-be Full Frame attendees – some films from the original festival program can be either rented online or streamed for free (now or within the near future) such as:
Since the festival's cancellation, Full Frame has partnered with NY-based film distributors NEON and Magnolia Pictures, to make featured films more accessible to those watching from home. Full Frame receives 50% of the revenue from each film rental or purchase listed on their Virtual Screening Room so we highly recommend keeping an eye on future programming.
Full Frame was excited to be approached by film distributors to stream their films because they were one of the only film festivals to be approached, in addition to cinemas who were in the process of signing ongoing deals with film distributors across the nation.
Recently, Magnolia Pictures and Full Frame featured a film bundle in their virtual lineup that included three documentaries with the joint theme of strongly addressing systemic inequity. A timely selection in support of the Black Lives Matter movement, the films available for purchase in this package include I Am Not Your Negro, Toni Morrison, and Whose Streets?.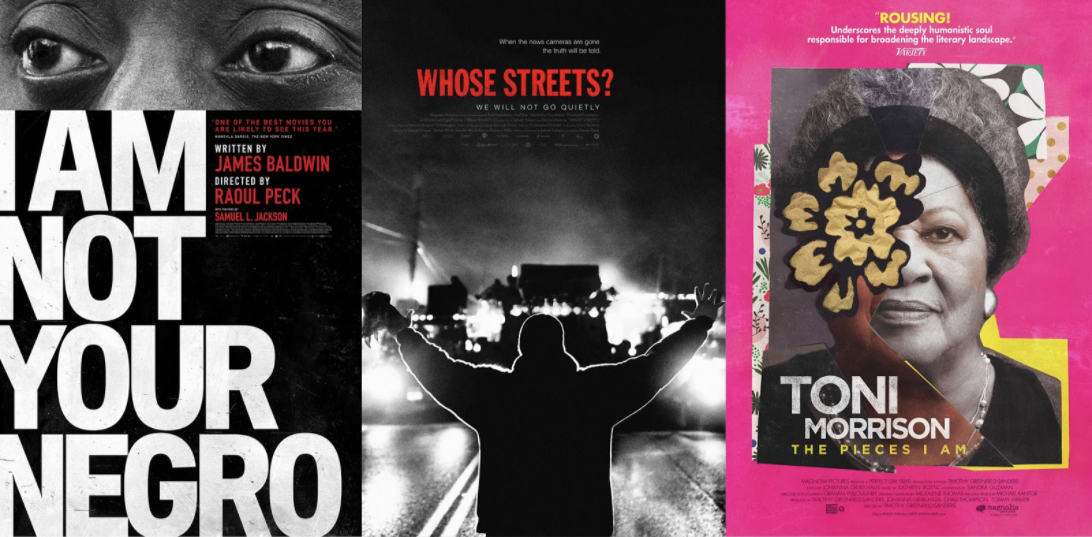 Since 2001 DesignHammer has worked with businesses, startups, and non-profit organizations to build, expand, and rethink their web strategy. As an agile technology-driven company, we were able to quickly adjust to a distributed team model and have been able to continue to support our clients and take on new engagements as organizations have more available time for marketing strategy.
Follow our RSS or Twitter feed to be notified as soon as it's posted.