Spring has arrived in Durham, and we've got the fever; it felt like the perfect time to tidy up our workplace with some spring cleaning.
But rather than scrubbing and dusting, we opted for pulling out old electronic items tucked away in storage closets, cabinets, under desks and in dusty office corners.
When possible, we update our tech gear to more energy-efficient products, which in turn helps us to increase our own efficiency and better serve our clients; however, this old equipment had piled up over the years.
It was time to sort through the clutter.
For recycling our eWaste, we teamed up with the folks at Triangle Ecycling, a Durham-based organization that collects eWaste items for its vocational STEM (Science, Technology, Engineering, Mathematics) education program in local high schools.
What can't be refurbished for teaching purposes is recycled as part of their 0% landfill policy. Triangle Ecycling also securely wipes data and destroys hard drives.
I had the pleasure meeting Serge Mouthon, Manager of Asset Management Services with Triangle Ecycling, at an event last fall and didn't hesitate to get in touch with him for arranging a donation. Serge has decades-long experience working with enterprise-level businesses to ensure data security of recycled items (you can read more about his experience on the Triangle Ecycling IT Asset Management Services page).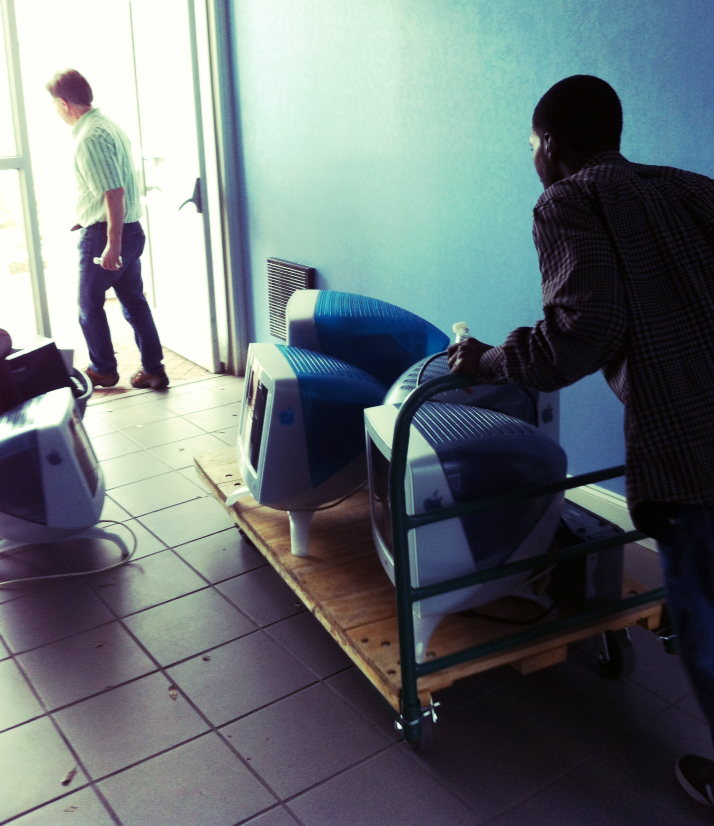 We're excited for the opportunity to give back and support the next generation of the Durham STEM community while moving forward with our office technology.
This round of spring cleaning unearthed several old CRT monitors, keyboards, mice (the clicky kind, that is), uninterruptible power supplies, laser printers, a 56K modem/router and a few miscellaneous cords.
It was a trip down Mac memory lane seeing the assortment of old monitors. Today, most DH staffers opt for MacBook Pro and Air laptops, paired with large hi-res monitors for a multi-screen desk set up.
These more energy-efficient items help keep costs low for us, as well as providing the versatility we need at our work stations.
We had a fun time seeing the technology that had been hiding around the office, and hope your organization will take a similar step in cleaning out and donating items (Triangle Ecycling accepts drop-offs and can also coordinate a pickup).
Oldest item unearthed?
A CRT monitor, circa 1998.