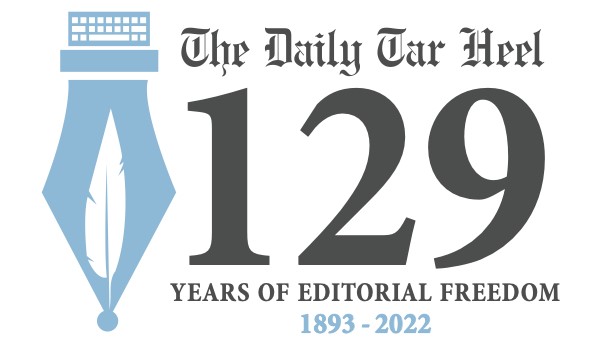 This year marks the 129th anniversary of The Daily Tar Heel (DTH), the award-winning student newspaper of the University of North Carolina at Chapel Hill. DesignHammer is proud to sponsor the 2022 celebration. 
The weekend-long 129th Birthday and Alumni Homecoming event will include panels with industry experts and DTH alumni, socials, and will culminate with a celebratory dinner at the Graduate Hotel on Saturday night. The DTH will honor former General Manager Erica Beshears Perel, with this year's Distinguished Alumni award at the dinner.
After 10 years as a reporter for the Charlotte Observer, Erica returned to her alma mater where she spent almost 13 years as General Manager and newsroom advisor for the DTH and Brand Studio Director for 1893 Brand Studio. In April of 2022, Erica became Director of the Center for Innovation and Sustainability in Local Media (CISLM) at the UNC Hussman School of Journalism and Media.
"We are proud to support the great service The Daily Tar Heel provides in offering training opportunities for student journalists," commented DesignHammer Managing Partner. "Erica Beshears Perel is an outstanding selection as Distinguished Alumni for the amazing work she has done on behalf of The Daily Tar Heel, and now supporting local journalism as Director of The Center for Innovation and Sustainability in Local Media at UNC Hussman School of Journalism and Media."
The connection between DesignHammer and The Daily Tar Heel goes back nearly thirty-five years. As an undergraduate Managing Partner, David Minton, was a staff photographer in 1987, and Photography Editor in 1988. "In addition to the friends I made as a student journalist, I'm forever grateful for everything I learned at the DTH, as it taught me much of what I needed to begin a career, however brief, in photojournalism," said Minton.
"DesignHammer and David Minton are great friends of The Daily Tar Heel, and we're grateful for not only their continued support of our organization, but also the positive impact they make on the broader community. We're proud to call David an alumnus and grateful for how he has encouraged and championed our students and staff over the years." — Courtney Mitchell, General Manager, The Daily Tar Heel
The DTH is one of the most decorated college newspapers in the country, winning numerous Associated Collegiate Press Pacemakers and Society of Professional Journalists Mark of Excellence awards. In 2014, The DTH was inducted into the Associated Collegiate Press' Pacemaker Hall of Fame. Notable alumni include Thomas Wolfe, Vermont Royster, Jonathan Yardley, Frank Bruni, and Emily Steel.
Founded in 1893, The Daily Tar Heel incorporated as an independent nonprofit organization in 1989, stopped taking student fees in 1993, and became both fiscally and editorially independent of the University in time for the newspaper's 100th anniversary.
The Center for Innovation and Sustainability in Local Media (UNC-CISLM) is an initiative of the UNC Hussman School of Journalism and Media to support existing and start-up news organizations through dissemination of applied research and the development of digital tools and solutions. The Center is funded by grants from the John S. and James L. Knight Foundation and UNC's Office of the Executive Vice Chancellor & Provost. Erica Beshears Perel was named Director of the Center in 2021. 
UNC-CISLM has been a client of DesignHammer since 2018 and has collaborated with the Center on a number of projects including two separate website initiatives to reveal insights into North America's evolving media landscape. These were, US News Deserts, a resource website dedicated to identifying geographical gaps in local news sources across the United States, and Project Oasis, a database mapping display of the location of independent digital news organizations in North America.