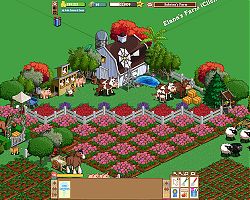 In a recent news story, a mom in the UK received a huge shock when she discovered her 12 year-old son used his savings and her credit card to spend a total of $1,400 playing the Facebook application game Farmville. The game, which has been a huge success since it's 2009 launch, involves managing a virtual farm and has become the most popular Facebook game, attracting over 82.4 million players.
While playing the game, players earn money that they then use to invest in the farm and advance in the game. In order to advance even faster, players can either accept advertising offers to earn virtual cash or spend real money to buy the virtual goods necessary to make the farm thrive. The creators of the game have received a certain amount of criticism for some seemingly shady practices to earn more revenue that can lead the less internet savvy players such as children to sign up for offers they don't want and can't afford.
The model Farmville uses to be successful is the same type of model that has been used in other social networking games such as Mafia Wars, Mobsters and Farm Town. While not totally unethical, the scammer advertisers are taking advantage of the inexperienced players and causing havoc for families whose children get caught up and end up spending a fortune on these games.
What can a family do?
Internet Money spent on gaming is Real Money
Some advice to parents who want their children to enjoy themselves, but seeking to avoid a surprise smack to the wallet is to educate children on the value of money that is spent on the Internet. It is easy for adults even to get caught up with money that you can't see and can end up treating credit like Monopoly money. For those who are just beginning to understand the value of money, an early education is essential before letting them loose on the web unsupervised. And while they are getting an introduction to money management also ensure that you are educated on current web trends, scams and pitfalls that a child may fall prey to.
Never Leave Children Unsupervised on the Internet
It is possible to "child proof" the Internet in various ways. Take advantage of all available options. Through parental controls, one can block websites, chat rooms, and other areas on the Web, which might be inappropriate for children. In addition to parental controls, blocking software is also available to help keep a child's online behavior under control. Also be sure to check in with them and monitor their online activity yourself. A little helpful guidance from mom or dad can only help to instill good online practices.
Children should definitely have access to the Internet as it is a great learning resource and there are plenty of ways to ensure they don't get into trouble while exploring. Just some things to consider before you invest $1,400 in a child's virtual farm.