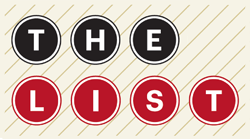 For the fifteenth year in a row, DesignHammer has made the Triangle Business Journal's lists of top Graphic Design and Internet Marketing and Design Firms in the Triangle. DesignHammer was listed as the #18 IMDB Firm and #7 Graphic Design Firm for 2016, based on the number of employees.
The list ranks local businesses on the number of employees working in the Triangle area dedicated to IMDB or Graphic Design. DesignHammer has 6 of 9 employees involved in Graphic Design, and 9 of 9 involved in Internet Marketing and Design.
The Triangle Business Journal is one of American City's metropolitan business newspapers, which enjoy a combined reach of 4 million readers each week with exclusive, in-depth coverage of their business communities. American City is a unit of Advance Publications Inc., which also operates Conde Nast Magazines, Parade magazine, Fairchild Publications, the Golf Digest companies, Newhouse Newspapers and cable television interests.