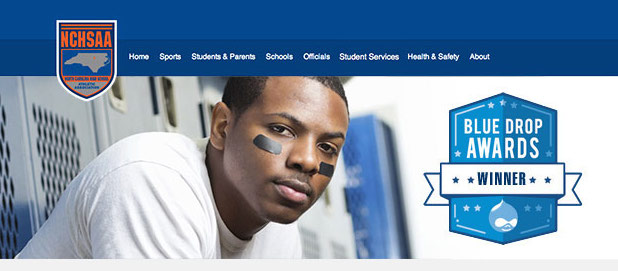 The North Carolina High School Athletic Association website was honored Tuesday as the Best Sports Website in the 2014 Blue Drop Awards.
Created in 2012, the Blue Drop Awards is an annual international award that honors excellence in Drupal development.
"We were very excited to learn that DesignHammer had won this prestigious award for their redesign of our North Carolina High School Athletic Association website," said NCHSAA Commissioner Davis Whitfield. "They were very responsive to our input and we have received a tremendous number of positive comments by visitors to our site."
Drupal is a popular free open source content management system that powers more than one million websites worldwide. The CMS is used by prominent entities such as the White House, the National Collegiate Athletic Association (NCAA) and the Louvre.
More 120 Drupal websites from 19 countries were community nominated in 18 categories, with a selection of finalists moving forward for community voting. The winners were announced at Drupalcon, the world's premiere Drupal conference, which took place in Austin, Texas this year.
The NCHSAA collaborated with DesignHammer to launch a website built on the Drupal 7 platform, the current version of the popular content management system.
"DesignHammer delivered an ideal website that is professional, innovative, and allows us to communicate with our various target audiences," said Quanta Holden, Assistant Director of Communications at the NCHSAA.
Drupal is highly flexible CMS with more than 10,000 community-contributed modules to extend its functionality. Drupal contains an abundant list of features and add-ons to provide for a variety of content needs.
"Drupal offers freedom for developers to create something innovative, as well as plenty of room for growth as an organization's goals and needs change over time," said DesignHammer Developer Kosta Harlan.
Two additional DesignHammer projects were selected as finalists for the award, with The Carolina Theatre in the running for Best Entertainment Website and the Raleigh Rescue Mission for Best Fundraising Website.
More about DesignHammer's contributions to the Drupal community can be found on our Drupal Give page.
Curious about what it took to make an award-winning website? Be sure to check out the case study detailing the ins-and-outs of the NCHSAA's website features.
The North Carolina High School Athletic Association is a private, non-profit organization which governs and regulates high school athletics across North Carolina for its members. Founded in1913, the NCHSAA has 399 member schools and over 200,000 student-athletes participate every year in its programs, which include almost 90 championships in 23 different sports.
Founded in 2001, DesignHammer is an award winning, full-service website design and development agency. The firm specializes in graphic design, content management systems, online application development, search engine optimization, usability and hosting, with experience in serving the needs of organizations of all sizes.